As you start to build your real estate business's social media presence, you may plan to rely on the most popular platforms to bring more attention to your listings. While sites and apps with a lot of traffic are great for gaining exposure and reaching a wide audience, there are other outlets that can help your real estate business grow in different ways.
For instance, a professional resource like LinkedIn can help realtors establish connections and improve their lead generation techniques. Other social platforms–like Twitter, Instagram, and Facebook–can help you market properties and create a buzz around your business, but LinkedIn's broad network will help you develop more direct relationships with clients and other realtors that will make your operation run smoothly and open up more opportunities.
Selling homes isn't just about marketing properties. To succeed in real estate long-term, you need finesse and impeccable communication skills. LinkedIn is a great place to exercise both as you define your real estate business, build quality connections with other professionals, and access the tools and resources you need to list properties and make a profit. If you're looking to expand your social media presence and give your real estate business a competitive edge, LinkedIn has more to offer than you might expect.
Represent Yourself with a Detailed Profile
While most other social media platforms prioritize entertainment, LinkedIn offers a unique environment that values informative content and fosters professional development. If you're a new realtor hoping to legitimize your business or you're simply trying to expand your network, LinkedIn can help you represent yourself and your business well and build a positive reputation within your area.
To get started, all you have to do is create a detailed profile with an eye-catching aesthetic that reflects your achievements and values. If you spend time writing thorough descriptions and filling out each feature, your page will help you share your mission and track record with industry contacts and prospective clients.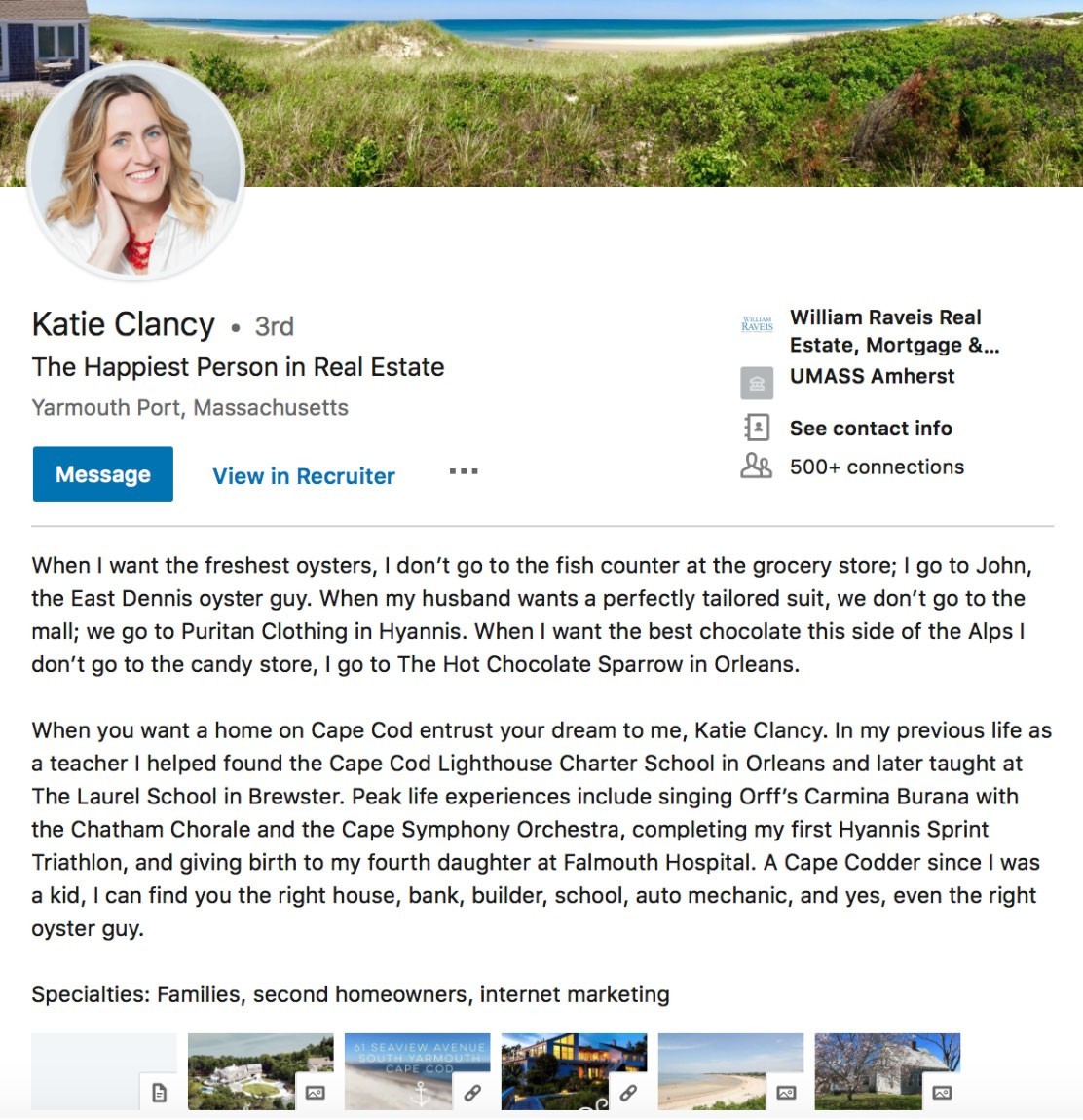 Tell a Story with Your Photos & Descriptions
Using social media to further your real estate business usually involves updating your followers on your current projects and reeling in new clients with promotional posts. On LinkedIn, you can shift the focus away from your individual listings and back onto yourself. With a complete and compelling profile, you can display your achievements and market your services to give other professionals an overview of your career history and specializations. You can also give other users a good idea of your brand's mission and values by choosing the perfect photos to represent yourself, your properties, and your business itself.
According to LinkedIn themselves, there are a few key qualities that all of the best profiles on the platform share. To illustrate how you can make your profile fit your needs, here are a few tips for creating the perfect realtor profile:
Include a Professional Headshot – Your LinkedIn photo will be the first impression that other users receive of you, so make sure that it is a high-quality, professional image. Experiment with different poses to determine which one gives off the vibe you are aiming for with your business. If you aim to help your clients buy and sell luxury properties, opt for a distinguished look. If you want to represent yourself as the leading real estate resource for home-buying families, try to choose a photo in which you look warm and approachable.
Mirror Your Vibe in Your Background Photo – A great way to make your page (and your brand) appear put together and cohesive is to ensure that all of your photos and materials share the same tone. For luxury real estate businesses, you may want to choose a photo of your local city's skyline to represent your premier options. Family-oriented realtors may want to use images that invoke the comfort and safety of an ideal neighborhood.
Come Up with a Catchy Headline – Your headline, or job title, will attract attention as users scroll through LinkedIn. Use this space to come up with a succinct tagline that describes your role and reflects your values.
Write a Thorough Summary – Next, you should strive to write a profile summary that describes your outlook on real estate on your approach to your job. This is the place to add details about your company, highlight awards or titles, and share insights that make you stand out from other realtors in your area. Write your summary with your LinkedIn audience in mind and be strategic about selling your services –which is obviously different from that on other platforms
Share Your Experience, Skills, and Education – If another LinkedIn user is interested in working with you, anticipate that they will scour your profile for as much information about your professional background as possible. Be sure to include as much information about past projects, special achievements, and marketable skills as possible. To avoid making your profile read like a resume, write brief descriptions about each position and event to demonstrate what that experience taught you or how you served past clients.
If you follow these guidelines, you can create a solid LinkedIn profile that accurately reflects your real estate experience and your current goals. Social media is all about sharing your outlook with others, so view this platform as a way to express your professional philosophy and show other professionals and potential clients what kind of realtor you are.Integrate Your Profile with Your
Existing Online Presence
Expanding your social media presence with a new account will help increase your online visibility, especially if you can be found on multiple platforms using the same searchable terms and handles. After creating your profile and customizing it to suit your specific needs, you can choose a custom URL that matches your other social media accounts. This way, clients can find you easily and access your material across all platforms.
When you make a name for yourself online, you aren't just making it more convenient for people to find you. You're also making a step to develop a recognizable brand that will help you further establish your real estate business.
Get Connected with Others
After you establish your LinkedIn profile, you can start making use of the platform's social components. While LinkedIn has some key differences from other social media sites, users can still interact with each other's pages and content. What makes LinkedIn essential for realtors is the opportunity to connect with others beyond individual sales. Whether you choose to form groups with other local realtors, communicate with vendors, or interact with potential clients, you can form relationships that will last your entire career.
Build Your Network
To make the most out of LinkedIn, you will have to work to build your network and make useful connections. When you complete your profile, LinkedIn will prompt you to add colleagues and clients from your email contact list. This is a quick and easy way to start filling out your network and refresh your connections with previous colleagues and past clients.
When one of your contacts accepts your LinkedIn invitation, take the opportunity to reach out and reconnect. This is a great opportunity to extend your services and offer your assistance. These people will be considered "1st-degree" connections, which means that you can message them directly.
LinkedIn's levels–which range from 1st- to 3rd-degree connections–can help you see how your connections are related to you and your existing contacts. These distinctions also determine how you can interact with your connections. Here is a breakdown of each type of connection and what they can offer you:
1st-Degree connections are existing contacts that have accepted your invitation to connect. You can send them direct messages and interact with them more freely than you can with other contacts.
2nd-Degree connections are people who your 1st-degree contacts know directly, but you don't. You can still send them an invitation to broaden your network, but your options to engage with them will be more limited. These connections can't send them direct messages. Instead, you have to contact them through InMail, LinkedIn's premium messaging feature.
3rd-Degree connections are people connected to your 2nd-degree contacts. If their full name is displayed on their profile, you can send them an invitation to connect. If only the first letter of their last name is listed, you can't request to connect. You can only contact them through InMail.
Check the "recommended for you" section under your network tab frequently and be on the lookout for more contacts. As your network grows, you can start to use more of LinkedIn's features and make more connections with other professionals.
Take Advantage of LinkedIn's Groups
LinkedIn professional groups offer more ways to engage with new contacts. The platform allows you to join groups based on your qualifications and the size of your network. Some professional groups may even be "closed," which means that you will have to request to join them before you can access their materials and participate in group conversations. These groups are essential for getting inside information on your local real estate scene and staying in the loop. If you're excluded from these networks, you may miss out on valuable updates and helpful connections.
To participate in LinkedIn groups, you can search them by name or simply search by industry keywords and locations. You are guaranteed to find active real estate groups on the platform that will help you connect with other realtors and potential clients. There may even be other groups that connect professionals in your area that can help you interact with contacts from other industries.
Familiarize Yourself with InMail
As previously mentioned, InMail is a premium messaging feature that allows you to get in touch with the distant contacts you meet via LinkedIn. While LinkedIn is a great way to meet new professionals and build your network, you have to have a premium account to take full advantage of these features.
If you sign up for a basic (and free) LinkedIn account, you can directly message any of your 1st-degree contacts. To engage with 2nd- or 3rd-degree contacts or entirely new profiles, you have to upgrade your account.
After subscribing to LinkedIn Premium, you will be allotted a certain number of InMail credits that you can use to message new contacts. The number of credits varies depending on your subscription level, so you will have to choose a plan that suits your connection goals. It's also important to note that some users choose to disable InMail notifications in their profile settings, so your messages may not reach everyone.
With that information in mind, it's important to understand the benefits of a premium messaging system like InMail. While it may seem inconvenient to pay for credits or be unable to contact certain users, the exclusivity of the feature means that most LinkedIn users take InMail messages seriously and are more likely to follow up with them.
Premium messaging prevents users from dealing with a crowded inbox full of messages they won't read, while the value of InMail credits gives the messages a sense of importance. For most users, this system helps them distinguish which messages are worthy of reading and responding to. LinkedIn's features aren't just designed to connect professionals–they help to build trust between them.
Gain Endorsements Easily
Another invaluable aspect of LinkedIn is the ability for people in your network to endorse your skills and recommend your services. This allows former clients and contacts to recommend you and show support for your business publicly. While there are many other online outlets that allow people to comment on a realtor's performance, testimonials posted on LinkedIn will appear more legitimate to potential clients and build necessary trust that will ensure future business.
Further, this feature helps you maintain positive relationships with past colleagues. In any market, it's essential to stay on top of local trends and changes. With the real estate market in its current state, it's wise to keep a few friends in the area for easy networking and occasional assistance. To maintain good rapport with your connections, leave positive comments on their LinkedIn pages after successful meetings and deals. Most likely, they will return the favor and help you build up your profile with complementary and constructive feedback.
When your former colleagues endorse your skills and speak to your strengths, their recommendations speak volumes to prospective clients and other professionals. While you may be able to interact with other realtors via other platforms, LinkedIn is arguably the most respected professional resource online.
Create Informative Content for Clients & Colleagues
LinkedIn may provide a different environment from other social platforms, but you can still post content that educates and engages your clients and colleagues. Unlike the short blurbs and photos that you post to platforms like Twitter and Instagram, you can share your insights on industry-specific events and detailed updates on projects that may not be as marketable on lighter platforms. For instance, you may want to write advice articles for home buyers, sellers, or even other realtors to engage your connections and keep a conversation going.
Demonstrate Your Expertise
In real estate, knowing your location inside and out is essential for gaining clients and serving them well. You can demonstrate your knowledge by posting about trends in the local market, updates on popular neighborhoods in the area, and advice for buyers and sellers that is specific to your area. Just like any other platform, LinkedIn benefits its users most when their connections and followers are actively engaging with their profile and content.
To make the most of your profile, spend time writing articles and posting updates that people in your network will want to click. You may even want to create graphics, charts, or videos that summarize your recent sales and projects to give prospective clients a better idea of how your business is performing.
Boost Your Overall Visibility Online
Another benefit of posting regular content on LinkedIn is that you can use the principles of SEO, or search engine optimization, to bring more attention to your main realty website. Posting content across the web that contains certain buzz words or key terms can help ensure that a client's quick Google search will lead them to your page or your business. The more opportunities that you have to connect your brand with your industry's searchable terms, the better.
If you aren't sure where to start, think about your clients' needs and go from there. If you want them to hire you as their realtor, write quick articles that would appeal to people hoping to buy or sell a home. This way, they can find you at the right time during the home switch process and settle on your services. This is especially wise on a platform like LinkedIn, where you may have existing connections that are just beginning to consider their real estate needs. If they see your content pop up on their feed at the right time, it might encourage them to reach out to you over any of their other real estate contacts.
Generate More & Better Leads
After setting up your LinkedIn profile, establishing your network, and filling out your profile with posts and quality content, you can start employing the benefits that LinkedIn offers for your business. While LinkedIn is not a sales platform, it is a great outlet for lead generation. When you promote yourself and your business to your network, you are reaching a pool of potential clients that is different from those you might find on Instagram, Twitter, or Facebook.
Reach Goal-Oriented Clients
On other platforms, your main priority may be to market your available properties and generate interest in your business by selling a lifestyle vision that appeals to your followers. For instance, you may post photos of luxury homes and apartments, post about desirable neighborhood amenities, or share impressive updates on big sales. While these methods are important for drawing attention and representing your business's brand, you may see fewer clients follow through on these platforms than on one like LinkedIn.
The connections you cultivate on LinkedIn are professional, not personal or incidental. While the average consumer may shuffle through social media platforms to find real estate options, they may not follow through with each realtor that they follow or engage with.
On LinkedIn, clients are more likely to reach out to you based on your performance record and values rather than your eye-catching marketing efforts. This platform is ideal for matching up with clients who share your goals and understand what you and your real estate business offer them on their journey to buy or sell a property. When your skills and achievements are prioritized over aesthetics and properties, you know that the clients who reach out to you actually intend to use your services.
Avoid the Struggle Against a Sea of Other Content
While having a presence on popular social media sites is essential to develop your business, real estate listings and practical posts can be easily drowned out by other content. Additionally, you may garner a lot of followers on platforms like Instagram, Tik Tok, and Twitter, but the posts you share will be interspersed with other, more entertaining material on your followers' dashboards… Unless they are actively searching for you or for real estate-related content, you may gain little traction and see little engagement.
Again, LinkedIn is different. Its professional environment doesn't allow for much fluff and irrelevant or unproductive posts are usually ignored by its users. Further, your LinkedIn contacts may be more likely to attend open houses and other gatherings to network, which could lead to more successful events, more sales, and better engagement for you and your business. People gravitate to LinkedIn to make constructive connections, so you can rest assured that any followers you attract on this platform will be interested in your content and, ultimately, in your services.
Strategize with Premium Features
When seeking to generate more leads for your business, don't forget about LinkedIn's beneficial premium features. Functions like InMail aren't just designed for making connections with other realtors–they can also allow you to get in touch with potential clients in a timely manner.
With a LinkedIn Premium subscription, you can see who has visited your profile and reach out to them in time to follow through on their interest. If you recently held an open house or posted about new listings, you can send InMail messages to the users who viewed your profile after those events and check on their interest levels. This useful insight can help you nab clients at the perfect time and follow through on probable leads with less footwork than any other method!
Conclusion
If you aren't currently using LinkedIn, you may have had a very different outlook on the platform and its offerings before reading about its benefits and unique features. With opportunities to share your professional history, connect with colleagues and clients, and optimize your lead generation methods, it's the perfect outlet for building your real estate business.
Real estate isn't just about sales–it's about establishing your reputation as a top-performing realtor in your area. If you're looking for social media platforms that will help you grow professionally and benefit your business, LinkedIn is high-up in the ranks.
Posted Under: Guides